Meet Jonathan and Bonnie Burton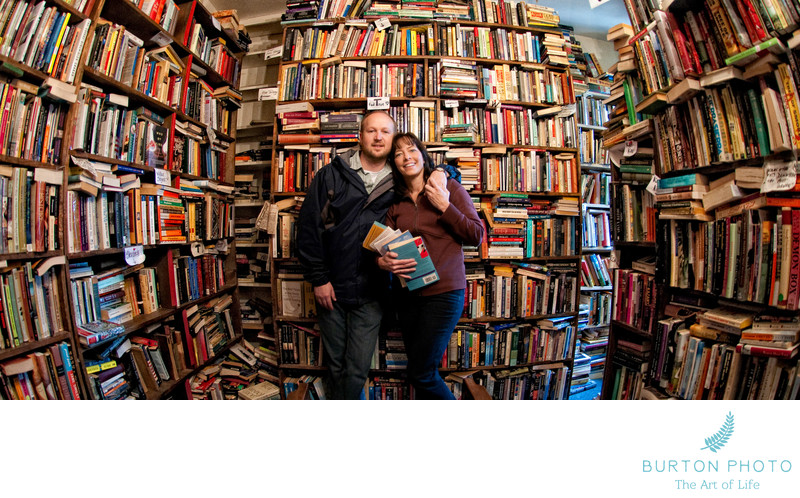 Jonathan and Bonnie have been working together since 2010 and REALLY joined forces in 2011 when they got married and merged their studios. They love creating images that are joyful, storytelling, thoughtful and timeless. They are IN love with creating those images together. They work seamlessly as a team. Wait till you see them in action creating the images you will treasure forever. When they don't have their cameras in their hands, you might find them combing through old stuff looking for treasures... (In the above image, Bonnie is happy to have found an armful of books by her favorite southern novelist, Clyde Edgerton.)
about Jonathan...
Jonathan found his passion for photography early in life. During a life-changing trip with a group called Teens' Camping Tour of the West, he uncovered his skill for creating portraits as he started including his friends into the landscapes he already loved to create. Fast forward from that 15 year old boy, Jonathan has continued to hone his skills and has been a professional photographer since 1991. He operates with a kind, relaxed, and positive outlook and is especially good at entertaining kids of all ages with his stick pony who blows kisses, juggling, balancing, and an impressive repertoire of balloon sounds. You'll feel immediately at ease when you're with him. In his down time, he puts on his hiking shoes and hits the trails.
about Bonnie...
Converted to the High Country ways in 2010, Bonnie enjoys mountain life and creating gorgeous images in amazing locations. Embracing each day to the fullest, emotions are always close to the surface. She pours all that emotional energy into her photography, expressing her clients' personalities, relationships, or their work. While she played in the darkroom as a child, her first love was music. After graduating from Wake Forest University, specializing in vocal and choral music, Bonnie taught general music and chorus for twenty years. Her love of music and children of all ages carries over to her work with photography clients. Music has taken a recreational role while Bonnie pours her professional energy into her work at Burton Photography. Bonnie has worked as a professional photographer since 2006.
Studio Info
Located in the heart of the High Country just east of Boone, NC, Burton Photo proudly serves clients in North Carolina and beyond. Their work as portrait, wedding, and commercial photographers has won numerous awards locally, regionally and internationally. But the awards they are most proud of don't come with a crystal trophy or a plaque. It is the words of praise and appreciation from their clients when they express how they feel about the photographic work that's been created for them. Jonathan and Bonnie strive to create the highest quality images for each of their valued clients.
Who does what?

Jonathan and Bonnie shoot every assignment as a team. They both process, edit, and retouch images. Jonathan is especially good at printing and produces all of the studio's beautiful canvases and fine art prints on their state of the art Canon imagePROGRAF iPF8400 printer. Bonnie is a talented graphic designer and produces all of the albums, greeting cards, announcements and marketing materials. Bonnie handles all things social media, website, and email answering. Jonathan tackles the bookkeeping and taxes. It's definitely a team effort!
Giving Back
Thrilled that they have the opportunity to give back to the community, Jonathan and Bonnie frequently donate sessions and portraits to local fundraisers. Through their annual Portraits on the Parkway Mini-Session event, they donate to the Blue Ridge Parkway Foundation. Another special project celebrates life as they create newborn portraits for the clients of the Hope Pregnancy Center of Boone, NC. To help the children caught in the snares of human trafficking, for every signed portrait they create, a donation is made to Operation Underground Railroad.