B.Tweenz Inspired - Molly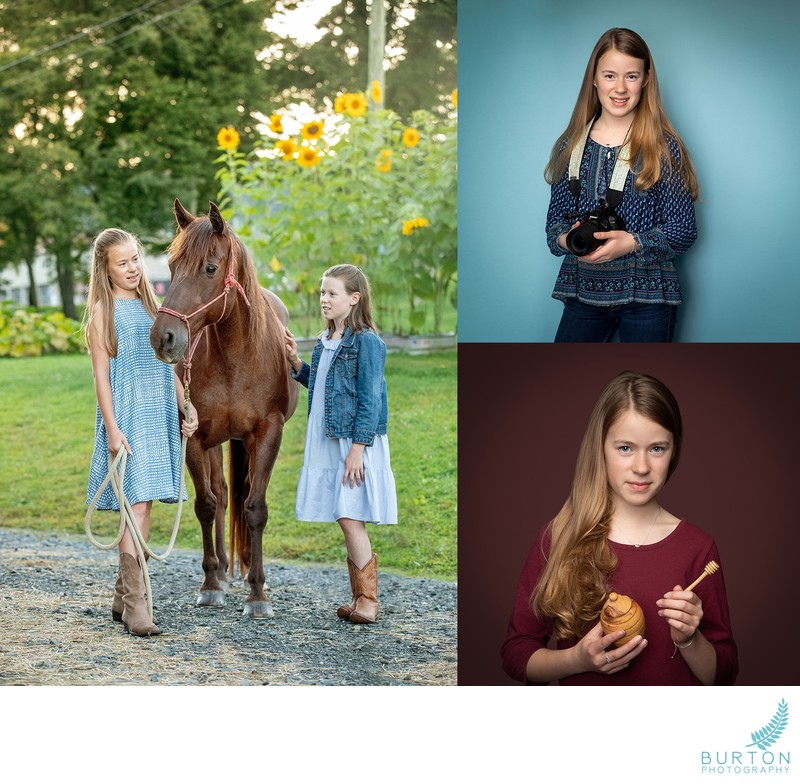 Compassionate, Hardworking, Amazing Volunteer
B.Tweenz Inspired features the "superpowers" of Tweens from the High Country of North Carolina. These are tweens who have something special going on – whether it's an interesting hobby, they've won a prestigious award, they've overcome difficulties, or they've gone out of their way to help others.
Here's where you can find more information about B.Tweenz and de la Cruz Farms.
Getting to know Molly, currently in 7th grade, we feel sure you'll agree that she has something REALLY amazing happening in her work at de la Cruz Farms in Deep Gap, NC. Bencita Brooks, who owns the farm with her husband, Jeff, remarks that "Molly and her family are gifts from the Lord. Their love for the Lord and love for others are evident in their willing hearts, hard-working hands and dedication to serve our community with compassion."
We first heard about de la Cruz Farms when making arrangements for creating portraits for Molly's family last fall. De la Cruz Farms' mission is to provide safe, interactive experiences for individuals to know God through faith in Jesus Christ in a horse and farm environment.
During the portrait session, we witnessed Molly's enthusiasm for everything at the farm - all of the animals, and the honey-harvesting process. We were lucky to sample some of the finished honey - very delicious! Molly's older sister, Emily, is by her side, volunteering at de la Cruz Farms. What a fun experience - sisters learning and serving together.
Molly's activities at the farm are varied and many. She's there almost every day since her family moved to the Deep Gap community this past year. She feeds and cares for the animals and she's a side walker with kids who come to the farm to ride one of the horses, Molly helps out wherever she's needed. Children with special needs come to de la Cruz Farms for Hippotherapy. (Hippo is the Greek word for horse.)
Molly says that "Before coming to de la Cruz Farms we had never even heard the word hippotherapy and had never seen a ministry like this before." According to the Children's TherAPlay Foundation, "therapy horses average 2,000+ steps during a typical treatment, hippotherapy gives patients thousands of opportunities to develop and refine balance responses, leading to improvements in core stabilization and postural control." Hippotherapy also positively effects cognitive and sensory functions. One of Molly's responsibilities is to assist the facilitator conduct treatment sessions with the kids who come to the farm.
Molly recently had the opportunity to attend a horse training clinic in Virginia with her mentor, Bencita, to gain even more confidence in her work with the animals at the farm. Molly reflected, "Early this year, Bencita asked if we would come with her to a horse training clinic and participate with their two newest animals. We went with Oscar, a miniature donkey, and Ozzie, a miniature mule. We took them and worked with them obeying to touches, we would walk them over a tarp, we took them over jumps, and worked with desensitizing them. We spent the day there, learned a lot, and had a great time." "Building trust with the animals takes time. I now have gained all of their trust through spending time with and working with them."
It rarely fails that in serving others, you find positive changes within yourself! Molly's parents, Gretchen and Cliff observed, "We believe learning these new skills has been valuable for Molly. It has boosted her self-confidence and shown her gifts that God has blessed her with".
Bencita describes Molly as cheerful, hardworking, diligent, responsible, kind, compassionate, grateful, gracious, and flexible and says, "Molly is developing into a young lady of noble character". Molly's parents add that they are very proud of Molly and her work at the farm. "She is all in, and works with a great attitude."
When Molly isn't busy at the farm, she enjoys baking and photography!
We're proud to feature Molly as a part of our B.Tweenz Inspired.
We agree that she is a remarkable tween who has accomplished so much while setting into motion a lifetime of joy.
For a limited time, for every B.Tweenz session, Burton Photography is donating $50 towards the purchase of tween-sized beekeeping suits to be used in the Hooves and Honey project at de la Cruz Farms.
Here's where you can find more information about de la Cruz Farms and B.Tweenz.
Do you know a tween who could use a confidence building, positivity boosting experience in their lives? Leave us your email or phone number and we'll be happy to share more information!
B.Tweenz - a brilliant place to B.