All the details about our sessions, process, and portrait products can be found in our Portrait Guide.
Do you have questions about our portrait services? We're happy to answer them! Scroll to the bottom of the gallery and fill out the short contact form. We'll be in touch.
We celebrate the love families share through the portraits we create. Whether you're gathering in the High Country for a special milestone birthday, anniversary or it's been too long since your family's last professional portrait, we're here for you! Jonathan and I have over three decades of combined experience as professional portrait photographers. We know how important these portraits are to you and how much more valuable they become as time passes.
Families can get scattered to all corners of the world and children grow up way too fast. Portraits celebrate the time you were ALL in one place. Together. Loving each other. Do you have a large group? No worries. We've photographed families with 4 generations and over 30 members. Do you have small children in your family? We've got this. Our bag of tricks is extensive and we haven't met a little person yet that we couldn't work with.
When photographing Families, we create several styles of images:
Classic, Illustrative and Pictorial.
Classic Portraits
Classic Portraits are thoughtfully posed; lighting and location well thought out. Expressions can be smiling or serious. Family members are almost always looking at the camera. Every detail is considered to help everyone look their best. Relax and let us put into action our years of experience as portrait artists. It's not as simple as "Hey! Everyone go stand over there and smile!" But we know how to work efficiently and make your portrait session one that you'll enjoy. Here's a great example of a Classic Family Portrait. We created this portrait along the beautiful Blue Ridge Parkway on a late Fall afternoon.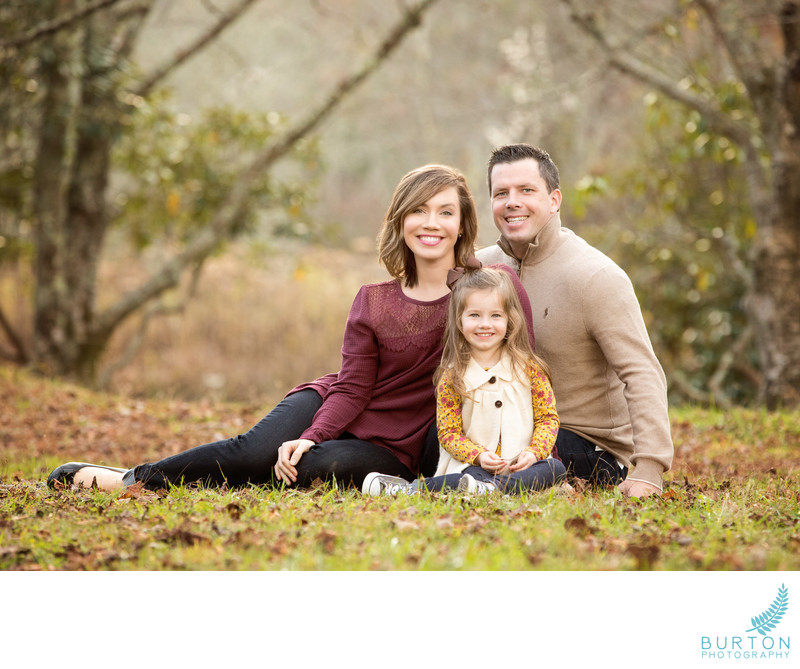 The grandfather of this wonderful family has a garage of restored cars and "works in progress". We created this multi-generational Classic Family Portrait at his home in Boone, NC with his Model A. The most fun part was that Granddad didn't mind a bit to have his kids and grandkids climbing all over the car. The grown-up grandchildren have fond memories of riding in the rumble seat in the annual Christmas Parade throwing bubble gum to the crowd. A large canvas of this portrait hangs in their home. This is a portrait to be treasured for generations to come.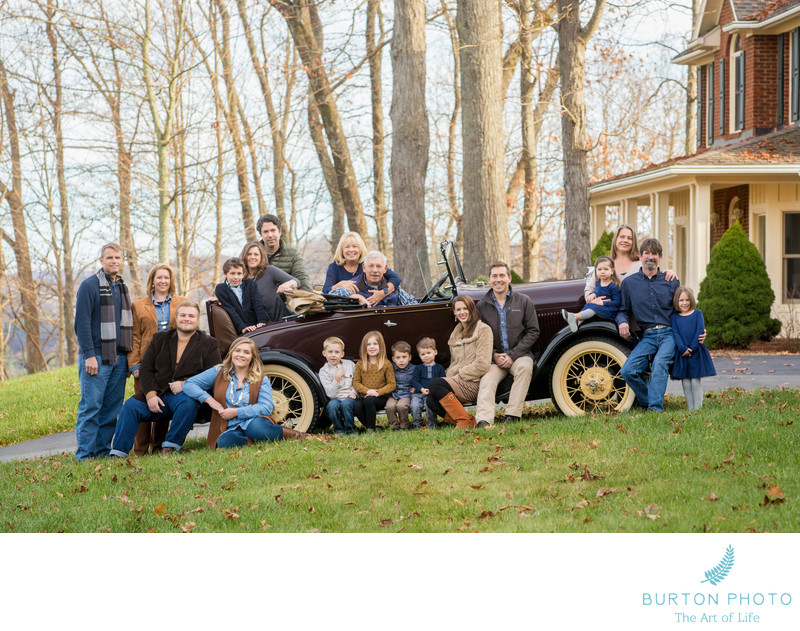 This Classic Portrait is one of the largest families we've ever photographed. We traveled to a community just outside Orlando where the family had gathered to celebrate Thanksgiving. Posing this many people can be a challenge but also the most fun!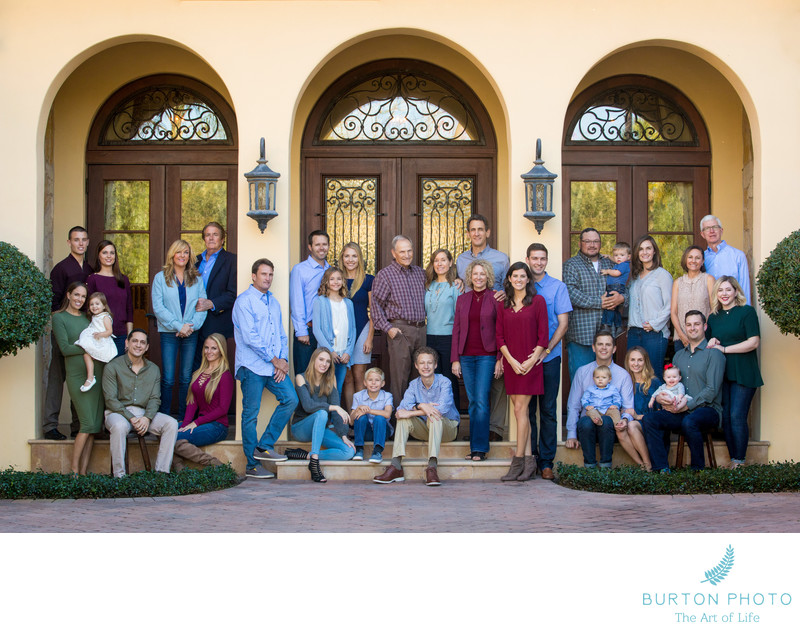 Illustrative Portraits
This style of portrait is more spontaneous and are often full of emotion and motion. It's a more photojournalistic/lifestyle type of portrait. We'll find a location with optimal lighting conditions and background and then let the family be themselves. Illustrative portraits are relaxed and casual although they can also be very dramatic.
Here's a beautiful example of an Illustrative Family Portrait. It's full of life and full of joy.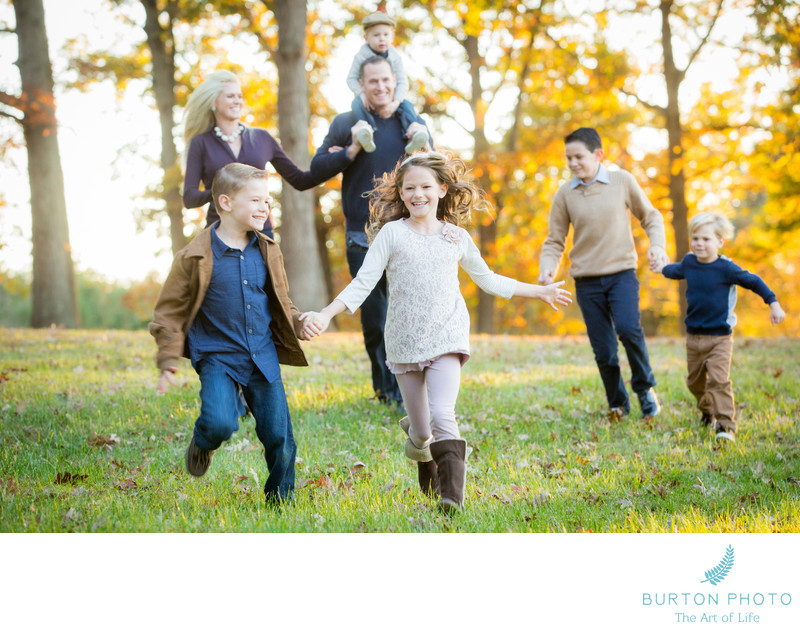 Here's another great example of an Illustrative Family Portrait.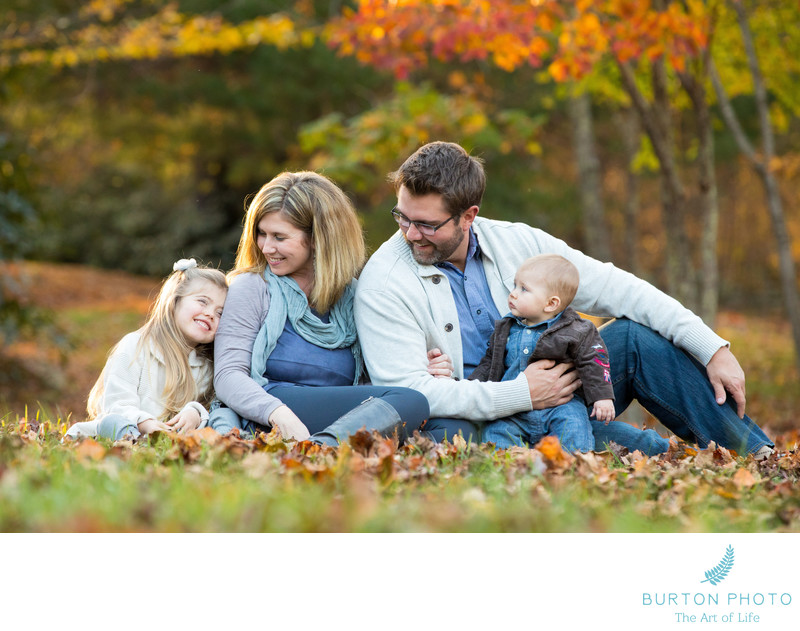 And one more Illustrative Portrait example...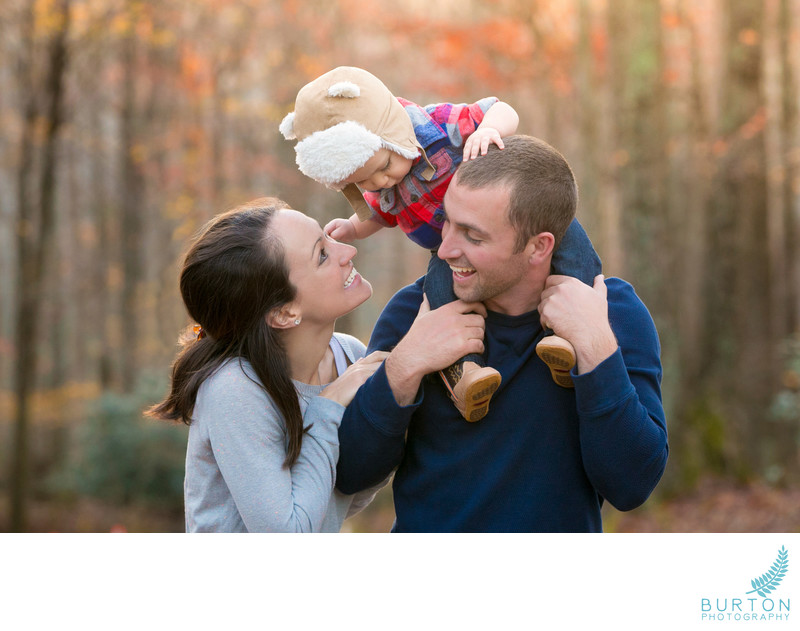 Pictorial Portraits
Another style of portraiture we create is Pictorial. The family is a smaller part of the portrait with the landscape more dominant. We don't always have the opportunity to create this style of portrait but when we do, it can be really special. We took this family to one of our favorite locations along the Mountains to Sea Trail near Blowing Rock and created this portrait while they were enjoying being in the great outdoors.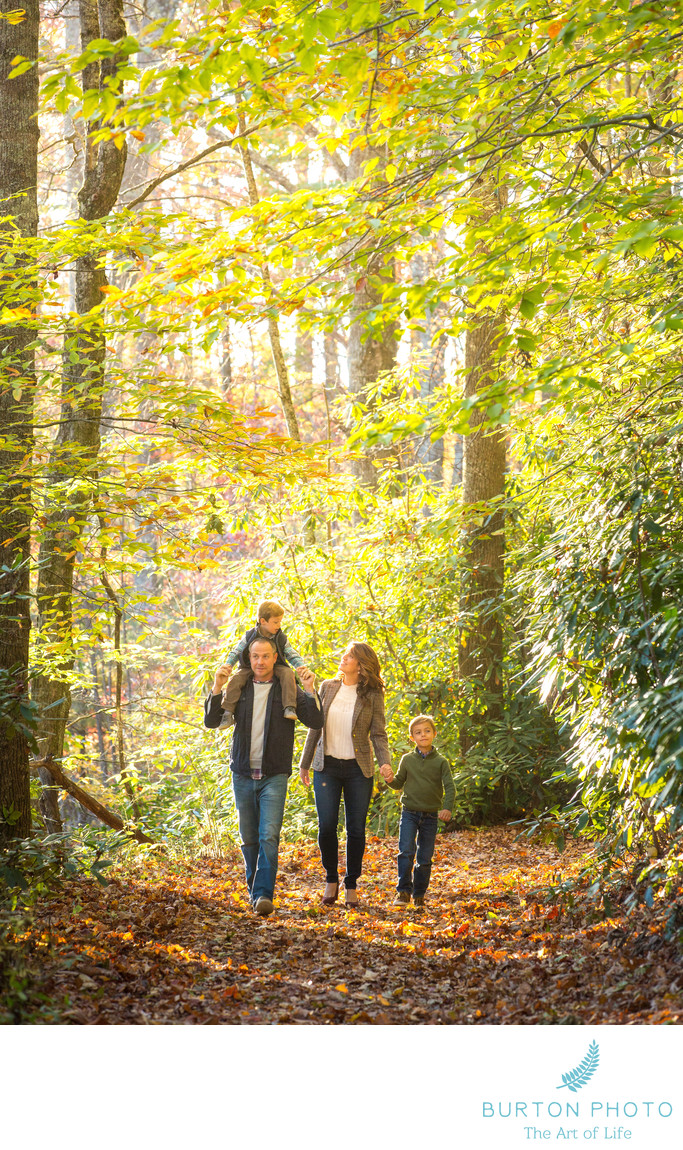 Our full-service photography studio is nestled in the heart of the Appalachian Mountains right outside the town of Boone and provides premium service to portrait clients in the High Country (Boone, Blowing Rock, Banner Elk, Linville, Valle Crucis, Vilas, Deep Gap, West Jefferson, Jefferson, Spruce Pine) as well as off-the-mountain clients in Winston-Salem, Charlotte and Asheville.
Jonathan and Bonnie value the professional relationships and continuing education opportunities provided through their membership in Professional Photographers of America, Professional Photographers of North Carolina. Continuing education plays an important part of their growth as artists, whether teachin