Senior Portraits
In just a flash, your child has gone from a tiny infant to a teenager filling out applications and making plans for their grown-up future. Senior Portraits celebrate this unique time in their lives, poised between their growing up years and ready to launch into their next great adventure. Senior Portraits make time stand still, just for a moment. Call us. We know how important these memories are. We'd love to create these milestone portraits for you.



When photographing Seniors, we create several styles of portraits, Classic, Illustrative and Pictorial.
Classic Portraits
Classic Portraits are thoughtfully posed; lighting and location well thought out. Expressions can be smiling or serious. The senior is almost always looking at the camera. We don't like that mechanical, forced smile any better than you do! Children are taught to cheese it up for the camera and it's a hard habit to shake. We've photographed dozens of seniors and know how to work with them to capture the most natural expressions. Relax and let us work our magic. Here's a great example of a Classic Portrait: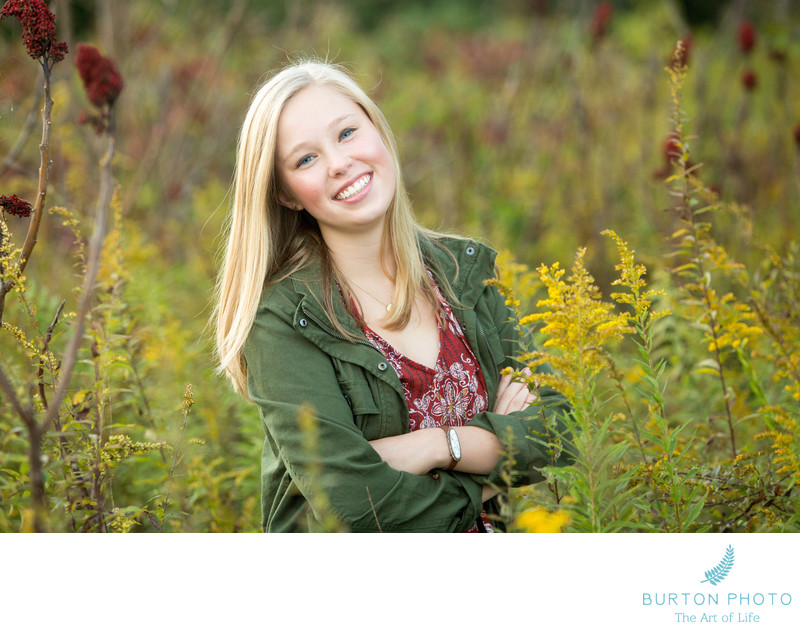 and another: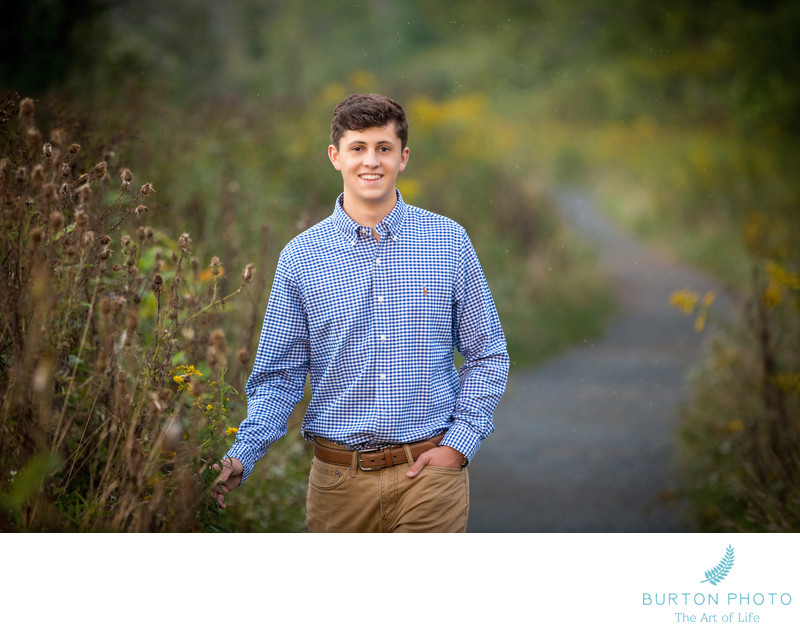 Illustrative Portraits
These portraits are spontaneous and are often full of emotion and motion. It's a more photojournalistic/lifestyle type of portrait. We'll find a location with optimal lighting conditions and background and then let the senior be themselves. Illustrative portraits are relaxed and casual although they can also be very dramatic.
Here's a beautiful example of an Illustrative Portrait. We're in a field with sunlight filtering through the trees in the distance. I don't remember what made Olivia laugh. Maybe it was something her mom said or a little bunny hopping through the grass that startled her. Whatever it was, Olivia's full-of-joy expression was priceless: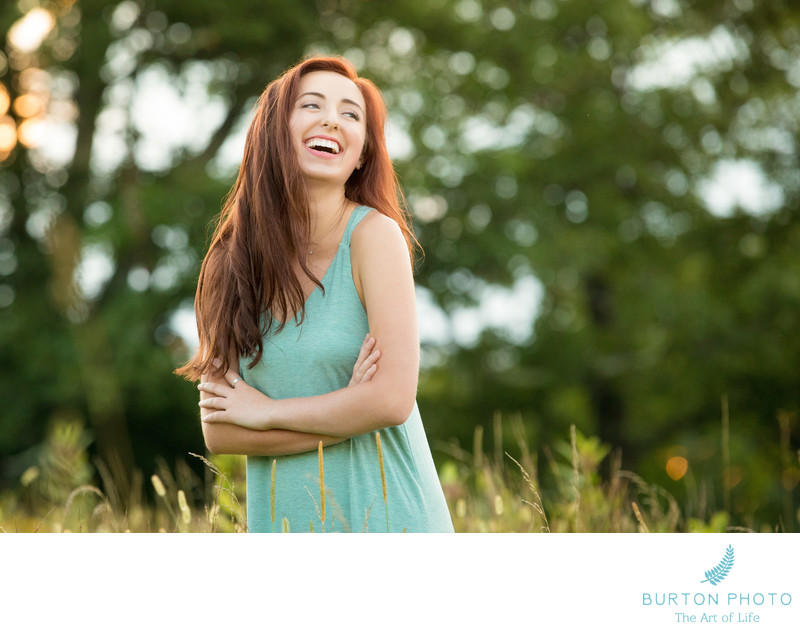 Here's another example of an Illustrative Senior Portrait: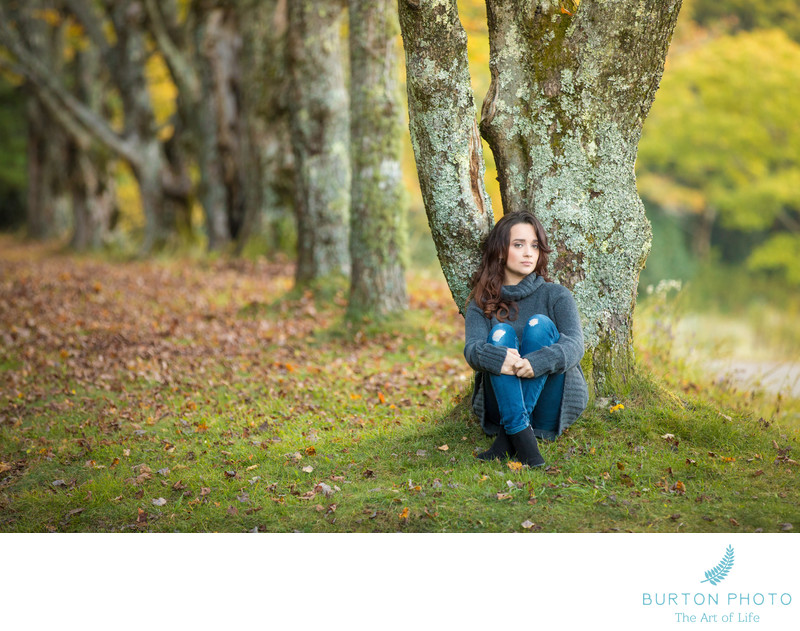 And one more Illustrative Portrait example... Gilson is an accomplished musician so it was natural for him to include one of his guitars in his senior portrait. This portrait won top recognition at the Professional Photographers of North Carolina print competition. The color harmony, dramatic shadow and strong storytelling combine to make this portrait really shine: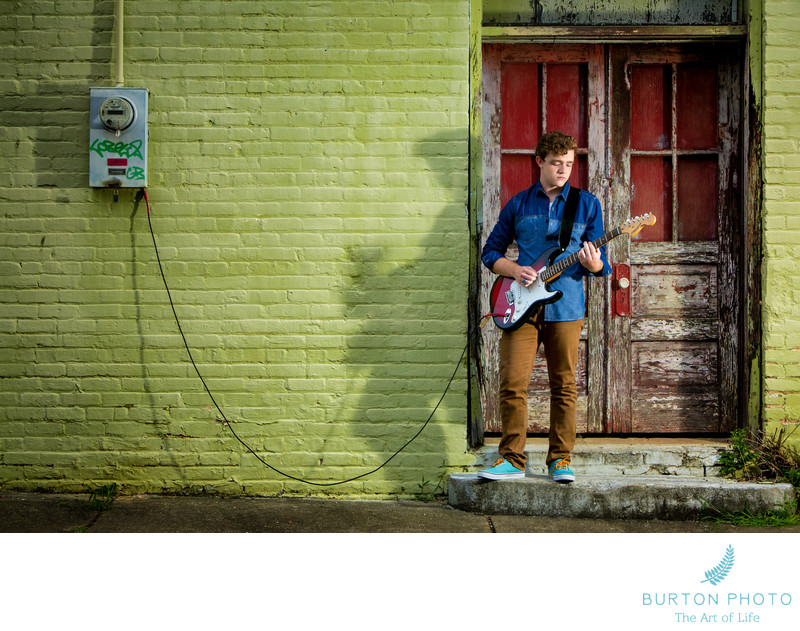 Pictorial Portraits
Another style of portraiture we create is Pictorial. The senior is a smaller part of the portrait with the landscape more dominant. We don't always have the opportunity to create this style of portrait but when we do, it can be really special.
We took Sara Fran to a favorite place of ours, Beacon Heights. With an elevation of 4220', the long range views are spectacular.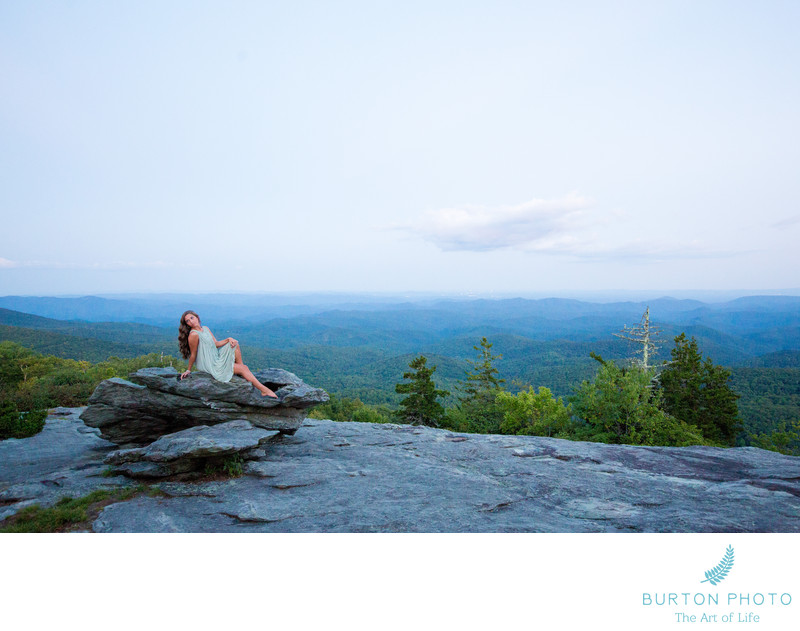 We created this Pictorial Portrait on the Watauga River in the quaint community of Valle Crucis: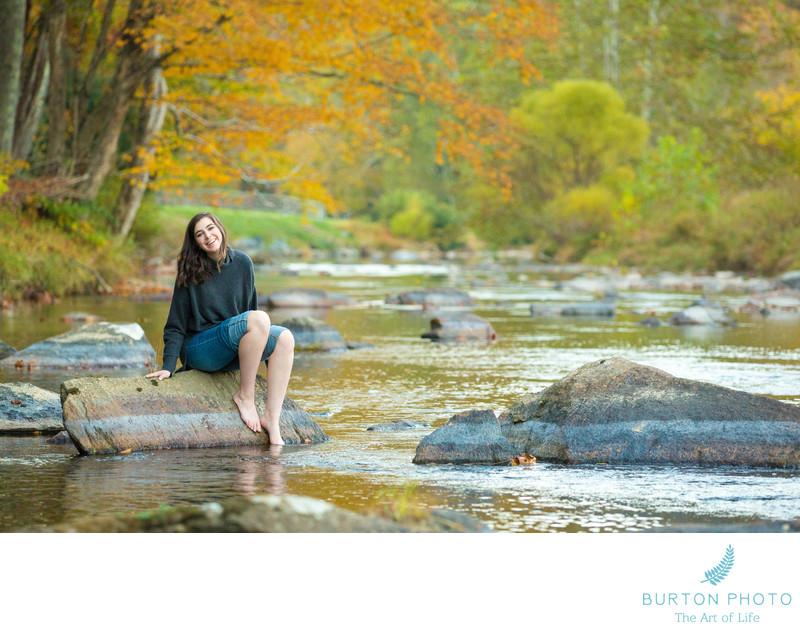 And here's another example of a Pictorial Portrait created in Banner Elk:
We'd love to discuss creating Senior Portraits for you. Information on sessions and pricing can be found HERE.
Recent Reviews
"Our family had the pleasure of meeting Bonnie and Jonathan Burton three years ago when they photographed our oldest for his senior portraits. We had such a positive experience with them with our son that we couldn't wait for them to photograph our daughter. We were with them from the beginning at the location of the shoot and had such a fun time. The Burton's made sure to include our ideas and they took a special interest in including specific areas of our daughter's personality. They made it all look so easy when in fact it takes such creativity, passion, insight, and skill. The way they work as a team is simply beautiful. They complement each others styles and have such a love of their craft. Our daughter felt so relaxed and at ease. She said that it was the perfect beginning to her senior year. If you are searching for exceptional photographers, look no more. The Burton's will deliver and you will have a timeless treasure to pass on to the next generation. Thank you, Jonathan and Bonnie your labor will be our love forever!" Amy, mom of Olivia, Class of 2018
"We moved to Boone just before our daughter's senior year. I researched and called several businesses around the area to ask about photographers around the area. The Burtons were highly recommended by multiple people. After visiting with them we knew they were exactly who we wanted to take senior pictures. They came to our house and land and took amazing photos that we will cherish for a lifetime. I now recommend them to others with full confidence that they will be just as pleased with their pictures as i am with mine." Leslie, mom of Katy, Class of 2017
"I have always admired the beautiful pictures taken by the Burton's. When my daughter was about to begin her senior year we knew exactly who we wanted to take her portraits. They were so amazing to work with and by the end of our session it felt as if we were family. We were so pleased with the portraits that we are on the books again this summer for my middle daughter who is also entering her senior year. We are excited to see what new ideas the Burton's have for our next session!!" Laura, mom of Olivia, Class of 2017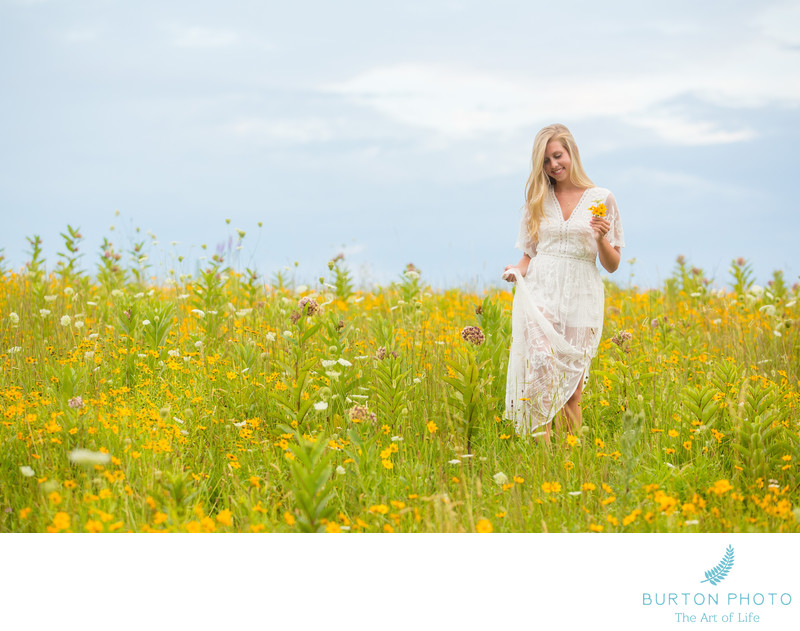 "We had the pleasure to have Jonathan and Bonnie Burton do my son's Alejandro Senior Pictures! I can't even begin to tell you how wonderful and perfect that day was. On a very emotional time for me as a mom they created the most fantastic pictures and captured his personality perfectly! They took their time, we never felt rushed and they valued the importance of this special event. We are extremely thankful to them, their wonderful talent and their care for our family. Thank you Jonathan & Bonnie! Yolanda, mom of Alejandro, Class of 2017
"Great pics despite an unruly toddler, capturing sweetness through the attitude of a pre-teen, all the way to showcasing a young woman who's ready to start her next adventure. Not even going to mention the photos with our wilda** dog. Bonnie and Jonathan have consistently brought fantastic talent, professionalism and skill to our home via their wonderful photographs. Their level of creativity makes their photos works of art; maybe someday they'll be photographing my grandchildren (but I'm getting ahead of myself). If you're looking truly wonderful photos, this tag-team is the best and you won't be disappointed." Beth, mom of Bailey, Class of 2017
Studio Information
Jonathan and Bonnie Burton, a husband-wife team of award winning photographers, create artistic and unique environmental senior portraits. They have combined experience of over 35 years and operate their full-service studio just east of Boone, NC. Jonathan and Bonnie are members of Professional Photographers of America and Professional Photographers of North Carolina.
Check out our TOP TIPS for Amazing Senior Portraits!
Questions? Want more information? Send us a message!